August 2022 - Late Summer Vibes
With summer vacations winding down (how is that possible?) and kids gearing up for back to school, we know that with changing schedules and seasons prioritizing your health can take a backseat. But that's why the direct care model is so fantastic – we are on-call when you need us! No matter what the month ahead has in store, know we are here and ready to help you feel your best.
ICYMI: Dr. Ashley Loughner, DO, Dr. Rebecca Byard, MD, and Dr. Lela Dougherty, MD are currently accepting new patients at their respective practices. Know someone who might be a good fit for direct primary care? (Aren't we all?) Share the news with them and let's bring healthcare to the people – without the hassle!
---

Updates from Our Docs
Dr. Natalie Gentile will lead a pop-up all-levels yoga/HIIT class at 6:30 p.m. Aug. 4 at the Walk Run Lift studio(opens in a new tab) in the Strip District. The event is part of a pop-up series(opens in a new tab) to introduce the community to Rebel Wellness, a first-of-its-kind, one-stop center in the region that will feature group cooking classes in the teaching kitchen, personal training and semi-private and group fitness classes. Dr. Gentile also will see patients in the new facility when it opens in the East End in 2023.

Summer hours:Dr. Dougherty will be out of office Aug. 13-20 and Sept 1-5. Dr. Byard will be out of office Aug. 15-21.

Love farmers' markets? Dr. Gentile will be part of the Bloomfield Farmers Market on Aug. 20. Plus, Dr. Byard will be at the Green Tree Farmers' Market(opens in a new tab) from 4-7 p.m. Aug. 25. Come visit her in the community tent.

Save the date: Flu shot clinics: Mark your calendars for these flu shot clinics in September: one at DCPP's Allison Park location(opens in a new tab) on Sept. 10 and one with Dr. Byard at Mt. Lebanon Public Library on Sept. 16. More details will be in the September newsletter.
​
---

Walk with our Docs
Did you know? You don't have to be a Direct Care Physicians of Pittsburgh patient to walk with our docs, chat with them and ask questions. Walk with a Doc is free and open to the public. Check out the August schedule below:
Join Dr. Dougherty the first Saturday of each month (excluding Labor Day Weekend) at 9:30 a.m. to walk with your doc! Meet at the Pie Traynor field parking lot(opens in a new tab) for a quick chat and then walk the loop of S. Ridge Road at a leisurely pace. Her next walk will be on Aug. 6. Come and bring a friend! Learn more at walkwithadoc.org.

Walk with a Doc: Highland Park(opens in a new tab) is in full swing with community partners! Join Dr. Gentile the first Friday of every month through October. Meet each time at 10 a.m. at the fountain at the Highland Park entrance. This month, she will be collaborating with Scratch & Co., so there will be a special treat after the walk.
This month, Dr. Gentile has a double dose of Walk with a Doc planned, thanks to a collaboration with Pittsburgh VegFest on Aug. 27. Before the plant-based food fun begins, she will host a Walk with a Doc on the North Side. Follow Dr. Gentile on Instagram @nataliegentilemd for updates on who her community partner is each month.
​
---

DCPP News
Dr. Kirsten Lin was part of the groundbreaking for the Peebles Pavilion, an open-air classroom at Peebles Elementary School. To learn more and to see photos from the event, check out the Triblive.com coverage.
---

Recipe of the Month: Vegan Stuffed Peppers
This month's featured recipe is packed with protein and fiber – and tastes great, too. Thanks, Dr. Lin, for the recommendation!
Ingredients:
2 tablespoons extra virgin olive oil
1 small yellow onion (chopped)
1/2 cup lentils
1/2 cup uncooked quinoa
2 teaspoons Italian seasoning
1/2 teaspoon kosher salt
1/4 teaspoon red pepper flakes (add more for extra spice)
2 cloves garlic minced
1 cup low-sodium vegetable broth
1 15-ounce can fire-roasted diced tomatoes in their juices
3 tablespoons nutritional yeast
1/2 cup chopped sun-dried tomatoes
4 large red bell peppers
Optional: 1/4 to 1/2 cup non-dairy mozzarella "cheese" or cashew cream
2 tablespoons chopped fresh basil, parsley or a mix
INSTRUCTIONS
Heat 1 tablespoon of the oil in a Dutch oven or similar large, sturdy-bottomed pot over medium heat. Add the onion and cook for 5 minutes, or until the onion is beginning to soften, stirring occasionally. Add the Italian seasoning, 1/2 teaspoon kosher salt, red pepper flakes and garlic. Let cook until the garlic is fragrant (about 30 seconds).
Add the lentils, quinoa, broth, fire-roasted tomatoes, and sun-dried tomatoes. Bring the mixture to a boil, then reduce heat to low. Cover and simmer for 25 to 28 minutes, or until the lentils are tender. Stir once halfway through, then again toward the end of the cooking time. If the mixture looks too dry, splash in additional broth or water. Stir in the nutritional yeast.
While the lentils and quinoa cook, preheat oven to 400 degrees F. Lightly coat a 9×13-inch baking dish with nonstick spray. Slice the bell peppers in half from top to bottom. Remove the seeds and membranes, and then arrange cut side up in the prepared baking dish. Drizzle the insides with the remaining 1 tablespoon oil and sprinkle lightly with salt. Carefully pour a thin layer of water into the bottom of the pan. Place in the oven and bake, uncovered, for 20 minutes. This step gives the peppers a head start while the filling finishes up.
---

DCPP Patient Spotlight: Melanie Ondek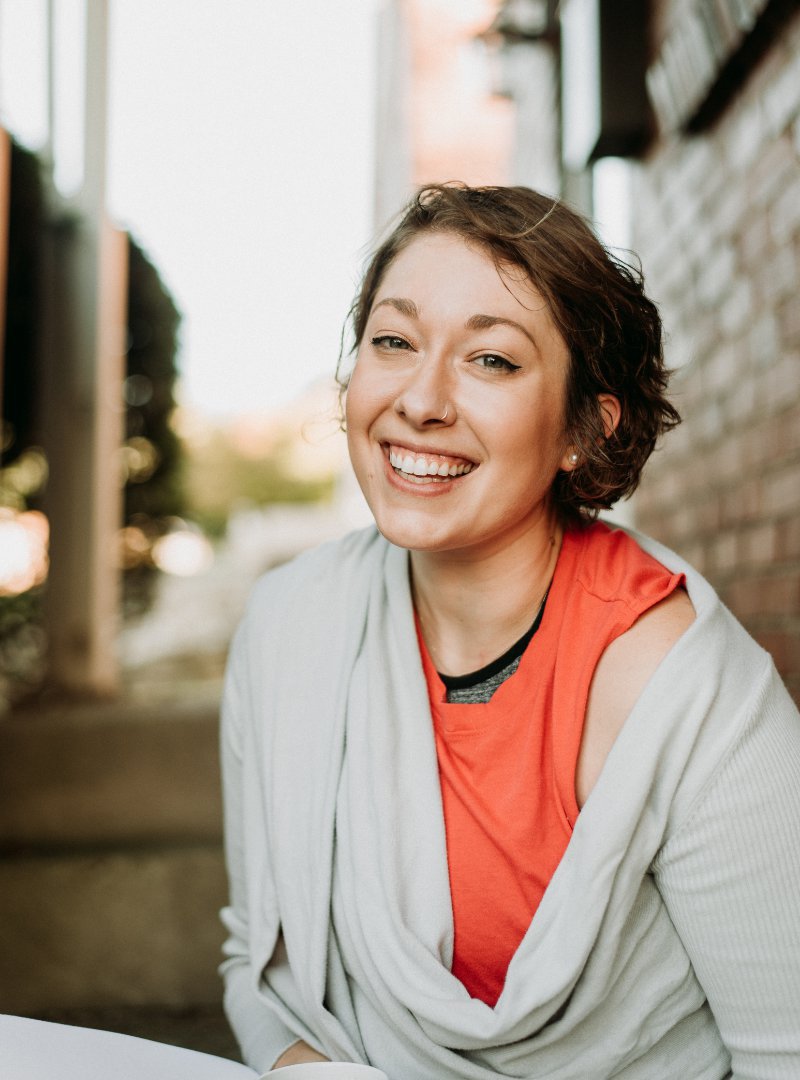 Melanie Ondek met Dr. Gentile when they were both students at Saint Vincent College and has been a patient of hers since she opened her practice. By day, Melanie works as a grant writer for the City of Pittsburgh and applies for grant money that will benefit the city. By night on Mondays and Wednesdays, she works as a group fitness instructor teaching SOULfit and SOULfusion classes.
Before reconnecting with Dr. Gentile after college, Melanie was looking for a physician who could help her align her values with how she cared for her body. "[Dr. Gentile's] practice has helped me to do the one thing I've wanted to do for a long time – look at food through a health lens rather than with a weight loss lens." Melanie has been so happy with her care that she's introduced many family members and friends to DCPP and Dr. Gentile.
Would you like to be spotlighted? Do you know another DCPP patient who would make for a great profile? Let us know, and you could be featured in a future newsletter.
***Please do not reply to this email. For assistance, contact your respective DCPP physician.***
​